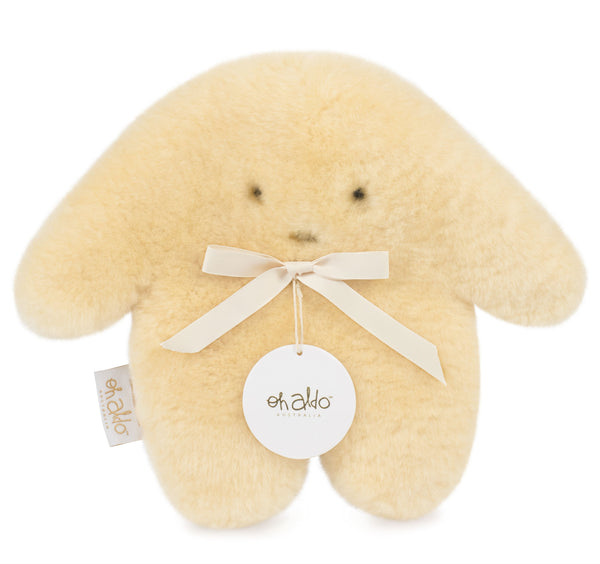 Oh Aldo
Handmade with premium 100% Australian Merino sheepskin, the soft and natural comfort of the oh aldo flat bear is bound to become a family favourite.
Beautifully packaged and delivered, it is the perfect gift for loved ones.
Premium 100% Australian merino sheepskin
Lab tested and passes Australian / New Zealand and European safety and chemical standards
Cute and super soft
Handmade to the highest quality & in line with fair trade principles
Free personalised card (optional)
Size
Approximately 34 x 28 x 4 cm
Returns Policy
We want you to be completely satisfied with your oh aldo items. If you are unhappy for any reason, we'll gladly accept a return or exchange for any full price item purchased on our website within 7 days of item received.
Please note that many of our products are handmade using natural materials and may vary slightly in appearance. This is the nature of the handmade item and we feel this adds to their character and is not to be considered a fault or defect.
Refund / exchange conditions
All unused item/s may be returned for a full refund or exchange providing all the following conditions are met:
1. The returned item/s is received by oh aldo within 7 days from when the item was received.
2. Item/s are in original condition, unaltered, unwashed and with no smell of perfume, deodorant or washing detergent.
3. All care labels are still attached.
4. Original tags and packaging (e.g. bow) are still attached.
5. The item/s were purchased on the ohaldo.com website.
Refund/exchange process
If the above conditions are met please follow these instructions to apply for your refund or exchange:
1. Email us immediately at returns@ohaldo.com to request a return/exchange. Include your original order number and the reason why you wish to return or exchange your item.
2. Once we confirm we can assess your return/exchange, print and complete the returns/exchange form.
3. Pack your item/s and their original packaging together with the form and ship to PO Box 1050, Gwelup DC, WA, Australia 6018.
4. Please note that oh aldo is not responsible for return/exchange shipping costs, unless the item/s is faulty or you were sent an incorrect item.
5. Tracked postage is recommended as oh aldo is not responsible for any items lost in transit.
Once Oh Aldo receives the returned goods and they prove to meet the return/exchange conditions listed above Oh Aldo will process the refund/exchange. Item/s that do not satisfy the above conditions will not be accepted and will be returned to the customer at their expense.
Refunds will be made only to the original purchasers credit card or Bank deposit account from which the payment was made. Shipping costs will not be refunded unless the item/s is deemed faulty or you were sent an incorrect item.
Please note
The above policies only apply to purchases made from the ohaldo.com website. All items purchased elsewhere must be returned to the original place of purchase. In this instance, the policies of that retail store will apply in terms of exchange or refund. Your rights under law for faulty items still apply. Unfortunately sale items cannot be refunded or exchanged.
FREE standard shipping for all orders over $100 within Australia with the code FREESHIP100.
DELIVERY TIMING
After placing an order on our website, you'll receive an email confirmation of your order within 24-48 hours.
Orders are processed and dispatched as quickly as possible, usually within 2 to 3 business days of order placement. Please keep this (and the below shipping timeframes) in mind and allow enough time for your order to arrive. If you are in a hurry to receive an order, express shipping is available at the checkout.
If our products are temporarily unavailable, delivery may take a little longer and we will let you know as soon as possible.
SHIPPING RATES
Australia
$8.00 AUD – standard Australia Post – 3 to 7 business days (a little longer if you are in far north QLD)
$10.00 AUD – standard Australia Post including AusPost insurance – 3 to 7 business days (a little longer if you are in far north QLD)
$12.00 AUD – for express Australia Post
$14.00 AUD – for express Australia Post including AusPost insurance
FREE shipping for all orders over $100 AUD for our Australian customers.
New Zealand
$16.00 AUD – Standard shipping to New Zealand
$25.50 AUD – Express shipping to New Zealand
International
We currently only ship to Australia and New Zealand but hope to expand to international customers in the near future. If you'd like to be kept informed as to when we do ship internationally, please sign up to our mailing list here.
DUTIES AND TAXES
Orders shipped to countries outside of Australia may incur duties and taxes which are applied by customs. The responsibility for any custom duties, foreign taxes or other fees which may be imposed rest with the customer. Should the customer refuse to pay duties and taxes held on an order, responsibility lies with the customer to arrange for the order to be returned to oh aldo in order to receive a refund. Refunds will only be issued once return orders have been received.
Please contact your local customs office for more information regarding taxes and duties payable in your region.
LIABILITY
Unfortunately once a parcel has been accepted by Australia Post it is no longer our responsibility. If Australia Post has lost your parcel we cannot send another parcel as a replacement. If you would like to purchase shipping insurance, please select this as your preferred delivery option in the checkout.
oh aldo has no liability for any failure to deliver goods you have ordered, or any delay in doing so, for any damage or defect to goods delivered that is caused by any event or circumstance beyond our reasonable control including, without limitation, strikes, lock-outs and other industrial disputes, breakdown of systems, failure of sub-contractor transport or network access, flood, fire, explosion or accident.